The esports industry is positively booming. More and more people are taking an interest in watching video game professionals play the games that they are good at. Hardcore gamers and casual fans are picking their favourite teams, showing up to events, and streaming matches online.
And many of these esports fans are in the United Kingdom too. According to games industry analysis firm Newzoo, 10% of the British population watches esports, meaning that one in 10 people in Britain have at least tuned into an esports stream or have actually attended a match in person. Moreover, out of the population of the United Kingdom (an estimated 64.5 million people), 36.6 million of us are gamers, which is over half of all people in the UK, estimates Newzoo. Out of this sub-section of gamers, 8.5% are esports viewers, meaning that there is plenty of room for the esports industry to expand in the UK and for local organisations to draw even more people in.
While London is already home to several esports organisations and many esports tournaments are hosted in the English capital each year, any expansion of the UK esports sector could mean good things for other UK cities. This includes Brighton. Brighton would be an optimal location for esports expansion and esports could well turn out to be the 'next big thing' in the seaside city. Here's why:
Bright Makes Gaming Accessible
You can find gamers all over the UK. Anywhere there is mains electricity you are sure to find a gamer, and even then, mobile devices allow people to play video games all the way up in the mountains! But Brighton in particular can be considered a strong location for getting even more people to take up gaming as a hobby.
The city of Brighton offers many internet and gaming cafes which are ideal for people who do not have access to high-speed internet at home or perhaps cannot afford the equipment (e.g powerful gaming PCs) to take part. One such location is c\: Side Quest which is run by Drink Relax Play, the organisers behind London's famous Loading Bar gaming hotspots. Side Quest describes itself as "Brighton's newest gaming hub" and it offers entertainment for all kinds of gamers. Side Quest offers games consoles, board games, craft beer, cocktails, coffee, and it boasts the title of being the UK's first vegan gaming cafe. This makes it a fantastic location for players to get together and socialise, talking about their favourite video games and playing the hottest titles too.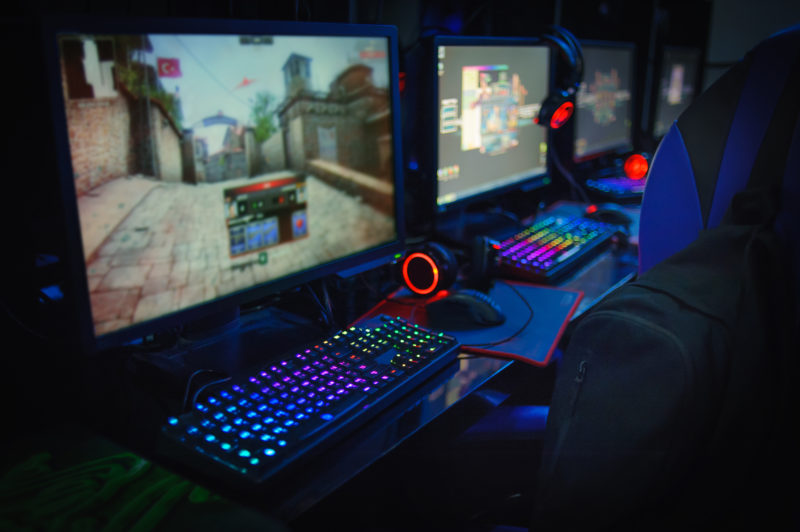 Side Quest also hosts regular events including those that are specifically focused on VR (virtual reality) gaming and Fireside Gatherings. Fireside Gatherings are essentially mini local esports tournaments for the online collectable card game Hearthstone. Those who attend Side Quest clearly have an interest in these sorts of events and it's this sort of grassroots interest that could help to grow Brighton's esports sector.
Another club of note is the esports society at Brighton University. The competitive gaming club organises different tournaments at the university and in other locations in the UK, allowing players to compete for prizes by playing various PC and console games. The group's Facebook page has 323 members at the time of writing, which again suggests that many people are eager for a chance to get involved.
How Brighton Can Benefit from Esports
If the Brighton esports scene is to expand, then it could prove to be incredibly beneficial to the seaside city, in terms of visitor attraction as well as local engagement.
For example, tourism is extremely important to the Brighton and Hove region and it heavily relies on people buying ice cream, booking hotel rooms and visiting local attractions. In fact, Brighton had over 11 million visitors in 2016 according to official figures, and the city has also invested £1 billion in the seafront in an effort to encourage even more tourists to visit. Putting on a major esports event can bring even more people to the area.
Moreover, Brighton is a popular place for online gambling, which shows a willingness to spend money on online gaming events. To be precise, Brighton comes eighth on the list of the UK's towns with the highest online gambling activity per inhabitant according to vegasslotsonline.com. As esports have been largely embraced by bookmakers in recent years, if such a betting market was to have more local focus in our area, it is likely to attract the interest of not only video game fanatics but also bettors. Moreover, in Brighton and Hove, we also have a high concentration of internet users, which helps spread the word for such events. After all, esports is an industry that largely made a name for itself online, so locals are more likely to engage with a tournament here than in an area where internet adoption is not as high.
Additionally, Brighton would benefit if an esports organisation made the city its home, helping to further put the city on the map so to speak, and encouraging more tourists to visit. Esports initiatives such as the Overwatch League are looking to expand with more regional esports teams while up and coming games such as Fortnite also pose potential for a Brighton esports team.
Brighton an Ideal Location for Esports Events
Brighton is already home to several esports and gaming events. In September 2017, organisers GOVR presented The Unspoken, which boasts the title of being Brighton's first-ever virtual reality tournament. Participants played The Unspoken, a PvP (player versus player) action game that lets players take part in a magic duel, casting spells to take down their opponents. The game itself is rated ages 7 and up, many of the competitors were new to the world of virtual reality gaming and tickets were £10 each. There was also a £100 prize for the winner. This relatively laid-back affair was ideal for esports newcomers and curious gamers who wanted to know more about esports on a local level and are interested in seeing competition like this on a smaller stage.
Meanwhile, Develop: Brighton is an annual industry event which proves popular every year. Develop: Brighton 2017 attendance set a record for the event, as over 2,000 game developers and members of the games industry headed to the city to discuss the games industry and its future. While this isn't the typical sort of consumer-focused event that one might expect to draw a big crowd, once again it shows that there is a real enthusiasm for gaming in the city and a willingness for gamers and industry figures to consider Brighton as worthy of esports investment.
Brighton offers many venues that would be ideal for esports events, including the Brighton Centre. In 2018, the Brighton Centre will be host to some of the biggest names in entertainment, from musicians such as Jason Derulo and former One Direction member Niall Horan to comedians such as John Bishop. The Brighton Centre is the place to go for a good time and the venue would also work well as a location for esports tournaments that would draw in many thousands of excited esports fans.
There are many avenues that Brighton can explore when it comes to expanding its esports efforts, from forming a local team to simply playing host to professional tournaments. Whatever is chosen, it will be interesting to see just how the city increases its involvement in such a rapidly growing industry.