The Victorian era, including the Industrial Revolution in Britain, brought many changes to society and the construction of buildings. As a result, there are differences between the architecture of the early, middle, and late Victorian periods.
In comparison to Victorian residences, Edwardian homes tend to be shorter because the middle classes who lived there did not require servants, as they did not have servants during the Georgian and Victorian eras. In contrast to Victorian and Georgian houses, Edwardian homes are usually constructed on larger, leafier plots. Georgian townhouses are typically three to four stories high and are spacious, comfortable, and light in nature.
Victorian buildings are easily identified by some of these Gothic revivalist features, including; lancet (pointed) windows, porches, dormers, roof gables, and pointed roofs that may be decorated with wooden trim.
Some Victorian properties retain classical features, including columns and panelled proportions, that are found in Georgian homes, but they are also heavily influenced by Renaissance and Gothic revival architecture.
Buildings constructed during this period were spacious and comfortable, such as those designed by famous London architects like John Nash.
As is the case with most British cities, London has a variety of architectural styles, ranging from the elegant stucco-fronted Georgians to the ultra-modern developments, which line the banks of the Thames.
The most famous Georgian house in London is 10 Downing Street. You may also be familiar with the expansive white-painted mansions that line Regent's Park, considered the finest example of Regency-Georgian architecture.
In addition to terraced houses in the city and countryside, Edwardian interiors are famous for their light-filled, opulent rooms with ornamental accessories and wood floors. As the desire for privacy grew at that time, Edwardian properties often had a front garden and were placed back from the street.
How can you spot the difference between an Edwardian and a Victorian house?
During the Georgian period (1714 to 1830), high ceilings and large windows were a distinctive feature of Victorian houses. However, the layout became a bit cramped compared to previous Georgian designs with a long and thin footprint.
The Victorian period lasted from about 1837 to 1901, making it one of the most popular styles of architecture during this time. During the Victorian era, many people wanted to live in homes similar to those built hundreds of years ago. This meant that Victorian-style houses were much more spacious than Edwardian houses.
Victorian houses typically had high ceilings, big rooms, and natural light. They often included fireplaces and stained glass windows. However, the most significant difference between Victorian and Edwardian houses was the size of the windows. Victorian houses had larger windows that let in more light.
Victorian property characteristics
The term "Victorian" describes a style of architecture popular during the 19th century. This period saw the development of several distinctive styles, including Gothic Revival, Queen Anne, Italian Renaissance, Châteauesque, Romanesque Revival, and Neo-Gothic. In terms of design, it is characterized by elaborate ornamentation, such as gables, finials, and turrets. The decoration is especially prevalent around doorways, windows, and chimneys. Other common elements include steeply pitched roofs, pointed arches, and the heavy use of stone.
Victorian architecture is characterized by its rich detail and elaborate decoration. Many Victorian buildings are designed in various styles, ranging from Tudor Revival to Art Deco. They feature intricate woodcarving, cast iron balconies, and wrought iron railings.
Some Victorian designs incorporate traditional English cottage architecture elements, while others draw inspiration from medieval European structures.
Victorians typically constructed buildings with local materials, such as brick, stucco, and timber. Brick was widely used because it could withstand extreme weather conditions. For example, some Victorians built homes out of red brick, which stands up well to rain and snow. Other people used bricks to make their homes look brighter.
Victorian architecture was particularly suited to urban areas. As cities expanded, people needed housing options close to work. Because of this, Victorian architects developed innovative methods of building large numbers of affordable dwellings quickly. One process involved constructing multi-story apartment blocks – another way to build high-density neighbourhoods where residents lived within walking distance of each other.
Today, Victorian architecture is still prevalent. It is one of the most recognizable styles in the world. There are over 2 million Victorian properties in the United Kingdom alone. These range from grand manors to small cottages.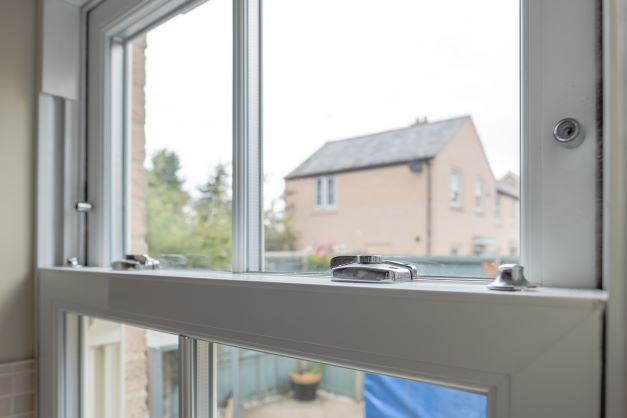 Different types of windows were popular during the Edwardian & Victorian Eras.
The Victorians loved sliding sash windows – they were considered elegant and stylish. They had no frames, just wooden slats held together by metal bars. These were often painted white or cream, giving them a clean look. You could open them up to let in the breeze or close them tight to keep out the cold. Many people still live in homes with traditional-style windows like these today.
Traditional Sash Window Styles
Many different kinds of windows are available today, including single-hung, double-hung, casement, bay and bow. Each style offers unique benefits and drawbacks. Double-hung windows use gravity to open and close the window. They're easy to operate and require only minimal maintenance. However, they often leak air around the frame.
Casement windows are similar to double-hung windows, except that they use hinges rather than gravity to open and close.
Bay windows are popular because they offer magnificent views. Bow windows are commonly used in older homes with a small space between the floor and ceiling.
Replica windows are an affordable alternative to traditional windows. These modern designs look like genuine wood windows but are manufactured from plastic, fibreglass, aluminium, vinyl, steel or composite materials. Replicas come in various styles, including colonial, Federal, Georgian, Victorian, Tudor, Arts & Crafts and others.
What are casement windows?
Casement windows are one of the most common types of windows. They open vertically like sliding doors and swing out horizontally. Casements are usually found in older homes because they allow ventilation while keeping out cold air. Casement windows are also known as double-hung windows because there are two panes of glass that slide up and down inside each frame.
The main advantage of casement windows over other window styles is that they do not require much maintenance. However, they do require regular cleaning.
What are double-hung sash windows?
Double-glazed sashes are an option for homeowners looking to make their homes energy efficient while keeping costs down. These types of windows are typically made up of two panes of glass separated by a space where air can circulate freely. This allows heat to pass through the window without causing condensation.
These windows are often used in older houses because they are cheaper to install than newer models. However, some people still prefer single-pane windows over double-pane ones because they don't like the look of double-glazed sashes.
What are bay windows?
Bay windows are large windows that run along one side of a house. They usually face outwards towards the street, providing lots of natural light and ventilation. Bay windows are often found in older houses, predominantly Victorian homes. They can provide privacy, too, because they don't look directly at the home's interior. Sometimes, bay windows can even be built into the house's exterior walls.
What Is A Box Sash Window?
A box sash window is a double-hung window with a single frame set into two panes of glass. This design allows for a larger opening than traditional casement windows while maintaining a similar appearance. They are typically found in older buildings or homes that require large amounts of natural light.
Georgian windows
The Georgian window is one of the most iconic styles of windows ever invented. They're known for being tall, narrow, and topped with a beautiful leaded glass pane.
This window style dates back hundreds of years and originated in England. Its name derives from King George I, who reigned during the 18th century. This type of window is often referred to as a sash window because of the way it opens and closes.
Victorian Windows
The Victorians loved everything about the 19th century – especially their homes. As such, they spent much of their time designing and decorating their properties, resulting in beautiful houses. One of the ways they did this was by installing windows that looked like picture frames. These windows had small panes of glass set within ornate wooden frames. The design allowed people to see outside without having to open the window.
Edwardian windows
The classic Edwardian-style window is one of the most popular windows used today. This period of history is characterized by large picture windows, tall sashes, and ornate woodwork. These features are still very much present in modern homes today. Consider installing some of our Edwardian windows if you want to give your home a traditional look. They provide a luxurious look while being energy efficient.
This style became very popular in the early 20th century. It retained many Victorian window characteristics while adding decorative touches. For example, the frame could feature intricate carvings, or the glass could be decorated with patterns.
Traditional window features
Window frames are one of the most significant elements of any home or building. They provide shelter from the weather, protect against draughts and allow light into rooms. In addition, they add character to a property, giving it individuality.
Traditional Sash Windows
In the UK, traditional sashes are the most popular style. They are straightforward to fit and often include an internal frame. Traditional sashes are usually cheaper than double-glazed units. However, they do require some maintenance.
Traditional Box Sash Windows
Box sash windows are often considered heavy and bulky compared to traditional sash windows. This is because box sashes require a different type of construction. Conventional sash windows use vertical wood slats attached to wooden frames. In contrast, box sashes use horizontal metal bars that connect the frame members. These bars allow the glass panes to slide easily into place.
In addition to being heavier and bulkier, box sash windows are sometimes recommended for larger window spaces. Window sizes vary based on the type of window you choose. You'll want to consider how much space you need for each pane of glass. For example, large picture windows typically don't require a lot of room. However, small windows can be challenging to open.
Another reason why people recommend box sash windows is to maintain the window's appearance. Unlike traditional sash windows, box sash windows do not compromise the look of the exterior. If you're looking for something unique, box sash windows might be just what you're looking for.
Traditional casement windows
Casement windows are old-style windows that are still popular in many older homes. They are typically rectangular and come in both single and double-hung styles. Casement windows are double-hung window that opens outwardly or inwardly, depending on whether it is a casement window or a sashless window. Casement windows are often made of wood and feature a decorative frame.
What types of Edwardian windows are available?
Edwardian windows are favoured because of their classic design. They are often used in period properties such as cottages and farmhouses. Many styles, sizes and colours are available to suit all tastes.
Edwardian Sash Windows
The Edwardian sash window is one of the most common windows used today. This type of window offers many advantages. For example, it is easier to clean and maintain than double-hung windows.
In addition, they offer excellent insulation properties and energy efficiency. However, there are some disadvantages too. For instance, Edwardian sash windows do not open outwardly like Georgian sash windows. Also, Edwardian sash window frames tend to sag over time.
Edwardian Casement Windows
A Victorian casement window looks very similar to an older style of window. This type of window features a rectangular frame around the glass panes. An Edwardian casement window, however, is a tad different. There is a curved frame around the glass-paned of these windows.
Both types of windows look great, and there is no difference between the styles. They are both excellent choices for homeowners looking to update their homes.
Is It Necessary To Replace My Sash Windows?
Many homeowners think replacing their sash windows is unnecessary because they believe they're still looking great. However, knowing how often you should replace your sash windows is helpful.
How old are your existing sash windows?
The older your sash windows are, the less likely they are to look brand new. They might even start leaking. You can tell whether your sash windows are old by looking at them. If they appear worn out, cracked, warped, or stained, it's time to replace them.
Are your sash windows energy efficient?
If your sash windows are drafty or leaky, they won't help keep your home cool during the summer. They could make your house warmer. Energy efficiency isn't the only reason you should replace your sashes; they must also be durable and robust.
Do you live in an area where winters are harsh?
It would help if you only worry about replacing your sash windows if you live somewhere where winter temperatures drop into the single digits. If you live in such a place, you'll want to check the warranty on your current sash windows to see what type of protection you have.
Modern windows are a bonus if you're trying to reduce energy consumption and heat loss. They help make a home look more attractive too. However, modern windows must meet specific standards.
Planning authorities want to keep buildings looking like they did before development began. This is why some places require developers to restore historic features such as brickwork, roofs, and chimneys. Even though these features aren't required to be preserved, they add character to a property.
You might think a permit isn't necessary because the structure already exists, but it's essential to understand how planning works.
If you want to know more about local conservation laws, contact us today.
What Are the Conservation Area Rules for Windows?
In most cases, you don't need permission to change the appearance of your window frames. However, there may be exceptions in some areas. Each town and city will have its own specific set of rules about how you can alter your home's exterior. If you want to know whether it's legal to replace your old windows with something else, we can help.
There are many different ways to categorize conservation zones, and each authority has specific rules.
Many towns and cities have strict policies regarding what sort of windows can be installed. Some municipalities require that all windows comply with building codes, while others allow for more flexibility. If you live in one of these areas, check with your local government office to see the regulations.
A conservation area is defined by law where windows cannot be installed unless you receive permission from the relevant governing body. This includes anything from a public park to private property. You can find out if you live in a conservation zone by checking with your local planning department or contacting your municipality directly.
We can help you plan and implement a brand-new or replacement window. Whether you're looking for double-glazed units or sliding glass doors, we'll work with you to ensure everything is handled smoothly. We offer free consultations and estimates.
Our friendly staff will guide you throughout the entire process. Contact us today to schedule a consultation.
What are Building Regulations?
Building regulations apply to newly constructed buildings and extensions and alterations. They specify what building materials can be used and how they must be built.
Windows and doors must meet specific criteria before they can be fitted. Building regulations have different parts depending on whether you're replacing an existing window or doorway.
What Constitutes a Traditional Window Design?
A period home is one that was built before 1900. Period properties are often referred to as "cabinets" because they feature heavy woodwork. They also tend to have high ceilings, large rooms, and natural light.
Replacing old windows with replacement glass windows is a common practice.
Many modern homes have replaced their original windows with double-pane glass windows. These windows offer better insulation, energy efficiency, and security. However, there are some benefits to keeping older windows around. For example, you should keep your original window design if it makes sense aesthetically.
You could also replace just the panes rather than the entire frame. This way, you can still enjoy the same amount of natural light while saving money.
Many historic homes have been restored over the years. Some owners even take it upon themselves to restore period features such as fireplaces, mouldings, and doors. If you decide to do this yourself, hire a professional restoration specialist. Otherwise, you run the risk of damaging the structure.
Replacing Traditional Windows for Period Properties
You have several options if you want to replace traditional windows in a period property. They include double-glazed units, single-glazed units, and triple-glazed units. Each type offers different benefits, depending on your needs. For example, while triple-glazed units provide better insulation, they are typically less energy efficient than double-glazed units. In addition, double-glazed units are generally easier to install because they do not require cutting into walls.
Can New Sash Windows Still Be Authentic?
Modern sash windows are still authentic looking and perform well. They are often preferred over replacement windows because they do not require extensive modifications to the home's exterior. However, some homeowners prefer traditional-style windows. There are many options if you want to keep your house original while adding modern functionality.