The Brighton Marathon Weekend 2020 promises to be a fun and inspiring weekend for the athletes involved – but also for the many supporters lining the route … and it's not just family and friends who turn up.
Packed with race events – from the marathon itself to a 10K, a mini-mile, and a stonking 50K bike ride – The Brighton Marathon Weekend brings all the excitement and drama of these challenging sporting events to the streets of Brighton.
2020 marks the 11th anniversary since Brighton – home to Olympians Chris Carter and Steve Ovett – hosted its first marathon and, this year, The Brighton Marathon Weekend organisers expect more than 18,000 participants pounding the streets.
Not only that, but they also expect over 150,000 of Brighton's finest marathon supporters!  So who are these supporters, what is it like on the sidelines, and how can you make sure you don't miss out?
Lining the route
In the words of a previous year's supporter: "I just want to do it all over again!  Best day ever! … an unforgettable experience! … I loved it!"
Being a supporter, lining the route of any of The Brighton Marathon Weekend races, is an exhilarating, inspiring experience for the supporter – but it's also an invaluable asset to the runners, as I myself can testify.
In the 2007 London Marathon, with record-breaking temperatures and mile after mile of drinks stations running out of water, my initial robust running soon dropped to weary walking around mile 16.  After five or six miles of plummeting morale, I looked up to see a gang of East London teenagers in hoodies ahead of me.  Busting through all my stereotyped preconceptions, they saw the name I'd penned across my t-shirt and starting shouting: "come on, Nick!"  This encouragement from the unlikeliest of quarters was just what I needed to pick up my spirits, my feet, and my pace, and run the remaining few miles to the finishing line.
Peter Le Grice –– winner of last year's Brighton Marathon –– agrees: "We put our heart and soul into racing maybe 2 or 3 marathons a year so it makes all the difference when we are made to feel so welcome and supported".
And other Brighton Marathon alumni have said:
"Never fails to impress. A fantastic Weekend for kids, runners, walkers and spectators … Supporters were as always amazing."
 "Most amazing crowd any runner could want"
 "A massive thank you to the wonderful people of Brighton and all the charity supporters who remained so very enthusiastic with endless amount of sweets and cheers"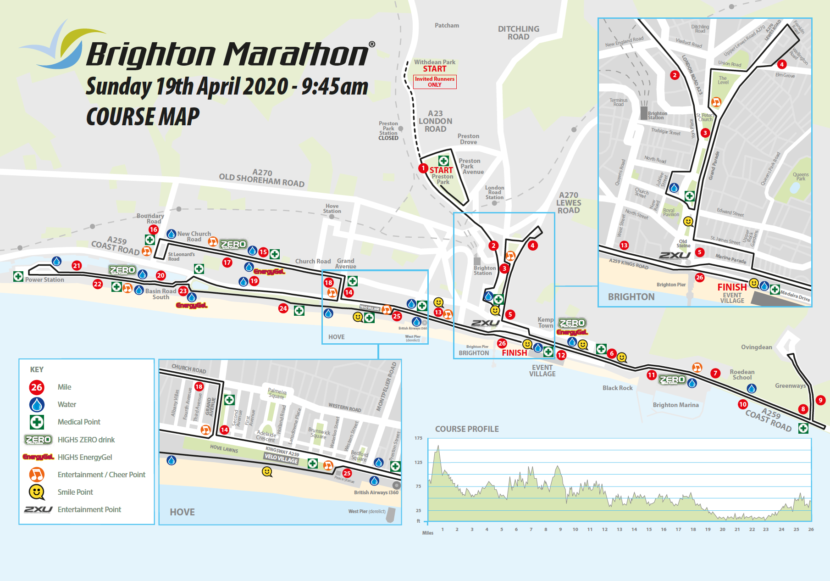 How can you get involved?
If you want to support the participant of The Brighton Marathon Weekend, here are some tips to make the most out of this exciting weekend and where to find the best spot on the Brighton marathon route in 2020
Who to support?
One of the joys of The Brighton Marathon Weekend is that seasoned athletes and have-a-go newbies rub shoulders in the same race.  You could go along to support a family member, friend, or work colleague you know taking part, and find yourself cheering on a John Ekiru Kelai or a Helen Davies as they fly by too.
If you want to support your local athletics club, their runners usually wear their club t-shirts.  The other group of people who tend to wear special t-shirts are the huge numbers of people running for charity.
Supporting a charity
Whether or not you personally know anyone running, a great way to get more involved is to support one or more of the charities represented.
The obvious way to do this is to sponsor a runner or to throw some money in a bucket (ensuring it is carried by an official representative, of course), but another way to show your support is look out for their runners and cheer them along their way.
One of the charities who will be fielding runners this year will be the RSPCA.
"Team Animal"
Team Animal is made up of 15 animal-loving athletes, together trying to raise £52,000 to pay for a new inspector, or the food bill for five shelters (housing around 1,000 animals), or any number of other interventions designed to rescue or care for animals in need.
The RSPCA are offering volunteer supporters the opportunity to be a part of Team Animal by cheering on the runners at The Brighton Marathon Weekend.
As members of Team Animal, volunteers will be given a special RSPCA t-shirt and equipped with supporter paraphernalia (including cheering sticks – possibly even cow-bells!)  Most importantly though, they will know that they are helping the RSPCA in their quest to create a world where all animals are respected and treated with compassion.
Sian, a Team Animal finisher at the 2018 London Marathon, said: "It was really hard when I got to mile 20 of the London Marathon but the RSPCA cheer stand was at mile 25 and it gave me that last push to run and to finish it – it was really good."
Why not persuade a friend or three to go along with you to shout and cheer your encouragement every time "one of ours" goes past!  To be part of this fun day out whilst supporting the RSPCA, contact them on 0300 123 0528 or at events@rspca.org.uk
Where to support?
As a supporter, you will want to pick the best spot to watch everyone go by, you will need to know where the route will be.  Details are posted on The Brighton Marathon Weekend website's participant pages but, if you know someone running, it would be worth getting there early and staking a claim, where little movement on your part will give you as many opportunities as possible to cheer on your runner.
A popular spot may be Grand Parade where it meets Edward Street.  This is roughly two miles and five miles into the marathon; a short walk down to Marine Parade puts you at around mile twelve and the finish at the "Beach Village" (Madeira Drive), where there will be a big screen and food outlets.
If this part of town is a little too busy for your liking, you could also position yourself where Grand Avenue meets Kingsway, and see your runner as they pass mile 14, and again after their mile 18 and mile 24.
Alternatively, you may want to choose to be where few other supporters are – where the runners will really need you – such as around the Shoreham Power Station.
In the absence of unforeseen circumstances, this year's route is expected to follow last year's: Preston Park, down London Road to Victoria Gardens; Grand Parade, around The Level, down to St James Street, and east along the coast road to Ovingdean; in and out of Saltdean, back along Marine Drive, turning inland to Church Road, and along to Boundary Road; back to Grand Avenue, past the Lawns and the Lagoon, to the Shoreham Power Station; and, finally, along the sea-front to the finish.
Enjoy The Brighton Marathon Weekend
We hope that you enjoy this year's Brighton Marathon Weekend!  Why not share this post on your favourite social media platform – and please do come back and post a comment to share your experience of The Brighton Marathon Weekend.
The Brighton Marathon Weekend – grab your running shoes, bike helmet, or vuvuzela, and be a part of it!