Jim Devereaux King (J.D. King) is one of many things that make Brighton special. The world-renowned Elvis Presley impersonator proudly calls Brighton home. The son of a West End musical star and grandson of Australian TV star Ed Devereaux (best known for his role as Matt Hammond, head ranger from Skippy the Bush Kangaroo), J.D. has a lot of talent coursing through his veins.
J.D. King's "love affair" with Elvis Presley started when J.D was just 4 years old. He was going through his mother's records and got attracted to the album cover of Elvis's 40 greatest hits. He insisted on having it played and danced to it the way only a 4 year old could.
This was J.D's first encounter with Rock 'n' Roll; his first and his best ever since. Having sung along with Elvis for many years, J.D. started to try himself on Elvis songs at karaoke nights with friends.
J.D initially just sang Elvis's songs, but his fascination with Elvis's live performances caused him to begin to impersonate the King. By 18, due to his accurate recreations of Elvis performances, J.D. was already being invited to perform full Elvis shows at the same venues that Elvis himself performed.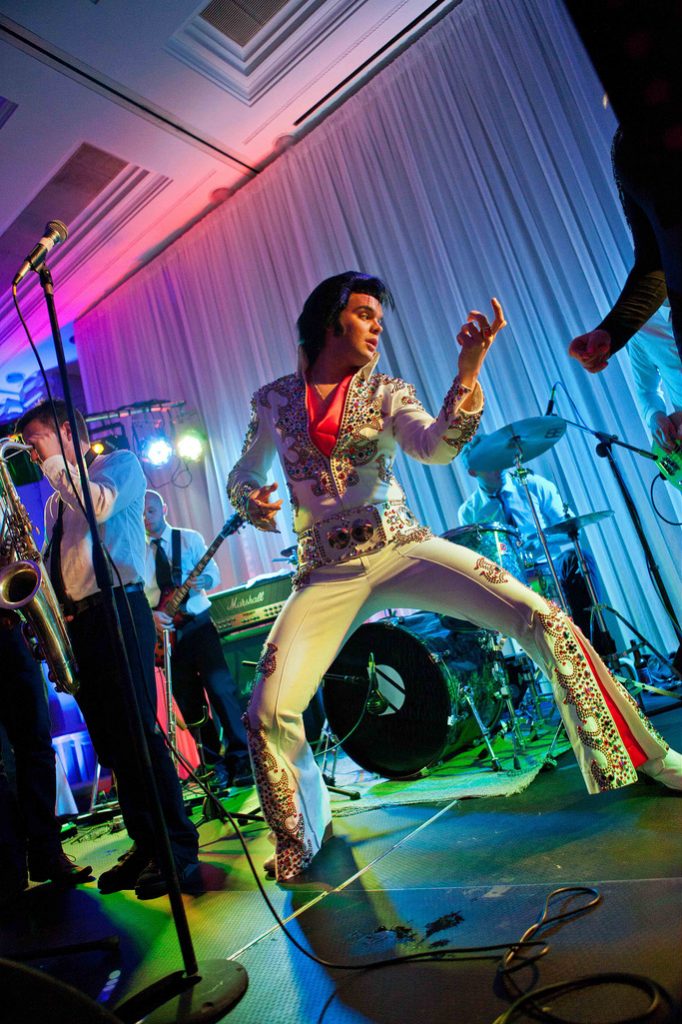 At 32 today, talented and handsome, J.D. is the most respected and renowned
Elvis impersonator in the world. J.D. performs primarily in the South East, UK, but he still performs all over Europe and the rest of the world with his "Elvis Burning Love Band".
J.D. knows more than 230 Elvis songs. He recreates Elvis performances of all periods. His specialty is Elvis' 1970's Las Vegas looks and gimmicks. J.D.'s tribute to Elvis is so thorough, he even gives out free scarves at every performance just like Elvis did.
His impersonations of Elvis have won him awards and excellent critical review from Elvis' fans, prominent blogs, newspapers, TV, radio stations and magazines all over the globe.
J.D. performed at Elvis's hometown Memphis, Tennessee during the 25th anniversary. He has performed for Elvis' family, and with Elvis' original band and backing singers. For them, it's like seeing the King perform again.
J.D. has also performed with famous stars like Alistair Campbell, Arthur Brown, Kim Wilde, Miss Dynamite and Super Group Texas. The BBC has featured Elvis several times and audiences say his recreations of Elvis are as spooky as they are nostalgic.
J.D is a multitalented young man. Apart from reenacting Elvis performances with aplomb, he also recreates
music of other all-time greats like Cab Calloway and Freddie Mercury. He accurately mimics several accents including Russian, Australian, Indian, Californian, New York, Southern US, UK English, UK posh, and cockney.
He's a singer, a writer, a standup comic, a master of ceremonies, and a truly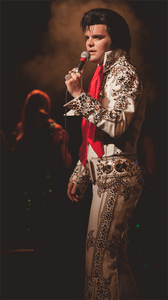 exceptional mimic. He poses for photographs a la Elvis and can play background music for events.
His amazing voice, charisma, talent and exceptional connection with the audience make producers beat a path to his door. Audiences are often amazed at his charm which mirrors that of Elvis'. His quick wit and perception makes him able to adjust to the mood and nature of the audience.
J.D.'s ability to get into personae is amazing. He'll sport a moustache, wear sideburns, put on sunshades or get dressed in signature clothes: anything to achieve such a perfect representation of a star. You'll have a bit of difficulty realizing it's not your favourite, performing once again.
The amazing thing is, unlike many mimics and impersonation acts J.D. never gets "old". He seems to have an endless repertoire of acts with which he thrills audiences anew in every single performance.
The "King of Encore", clients come back all the time for more of J.D. From corporate events, through classy weddings to private parties, J.D. is sought after for the originality, variety and life he brings to their dos.
J.D. prides himself in his professionalism. Behind the flamboyant Elvis impersonator is a seasoned professional who treats every job with seriousness.
He's known to invest heavily in the best equipment and materials to give the best performances, and the most accurate Elvis impersonations from any period. That's right, he brings his own equipment, including sound and light systems, in his car.
J.D's performances in the South East have standard quotes. Performances beyond this area carry an added premium. The standard priced show formats are:
3 x 30 min sets
2 x 45 min sets (most popular)
1 x 60 min set.