What's the story behind Love Removals….
Wayne Green began a man and a van business in 2005. Due to Wayne's talent for removals and his exceptional customer service his small man and a van business evolved into LOVE Removals, and was re-branded as LOVE Removals in 2012. Today LOVE Removals has a fleet of four vans and a team of 12.
What services do you offer
We provide free, no-obligation quotations and happily come out to visit you to provide accurate quotations and to assess any particular difficulties which might arise with your move.
We provide a partial or full packing service, packing materials and office and home removals.
We can dismantle and re-assemble furniture where required and are happy to discuss your particular requirements.
 What sets you apart from other removals firms?
Wayne carries out all the viewings so you will always meet the man who puts the LOVE into LOVE Removals.
Wayne is dedicated to providing an unparalleled moving experience and takes great pride in his work. He is a hands on owner, often carrying out moves himself as well as staffing the members of each team he sends out on a move. Wayne provides the personal touch which sets LOVE Removals apart other companies.
LOVE Removals doesn't take a deposit when you book your move. We are as flexible as possible and work with you if your moving date changes. We understand that moving is stressful enough and that dates can fall through.
Within a 25 mile radius of our office we will deliver and collect boxes and packing materials free of charge. We are happy to loan you boxes (for a small deposit, repaid on collection of our boxes) and can provide bubble wrap and packing paper at the most competitive rates.
It is worth mentioning that if the worst does happen and an item is damaged, we do all that we can to work with you to find a solution and we will help you make your claim under our goods in transit insurance if we are not able to resolve matters between ourselves.
We truly do move you with LOVE and will even plumb in your washing machine if needed!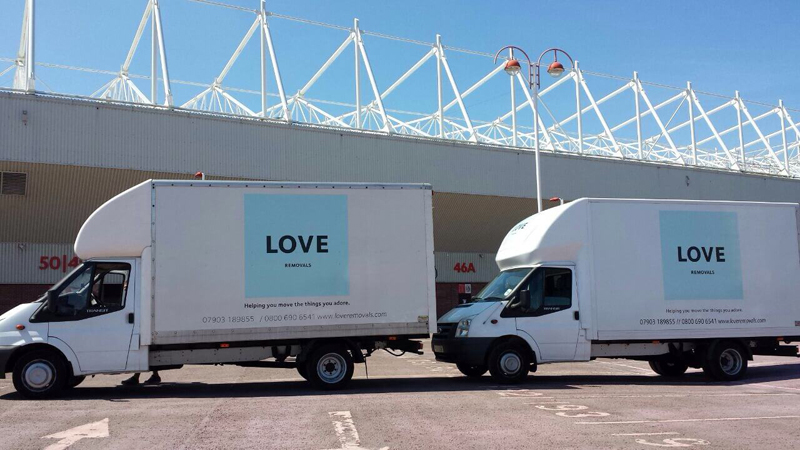 You're registered with Checkatrade, does this ensure you are at the top of your profession?
We have been a member of Checkatrade since LOVE Removals began and membership ensures we are truly answerable to our customers. We have had a consistently high score which demonstrates our top standards and fantastic levels of customer satisfaction. Membership ensures we go out of our way to help our customers in any way we can with each move we do.
Are you fully insured?
Yes we are fully insured through removal industry specialists, Basil Fry & Company. Goods in Transit insurance up to a value of £ 50,000 is included with every move at no extra charge and this can be increased upon request. In addition we have full vehicle insurance, employers" and public liability insurance.
Do you offer piano removals….etc
Yes we can move pianos and are fully equipped with the specialist equipment needed to safely transport and navigate pianos into tight spaces, up and down stairs and with a tail-lift van to make the job smoother.
We have piano wheels, shoes and covers to protect your piano during its relocation and can move your piano from your flat, house, shop or studio.
Our piano moving team is happy to transport your piano as part of a larger move or simply to undertake a piano-only move.
If I wanted a quote, what's the process involved?
You can call us on 0800 690 6541 or complete the Request a Quote form on our website. Alternatively you can email us at help@loveremovals.com
Can you give our readers some tips to ensure a professional move goes smoothly?
Making sure all your belongings are safely packed, labelled and ready to go on moving day is the best tip of all for a quick and easy move. If you use our packing service, we will obviously do this for you.
Aside from that, making sure any pets are safely locked away makes our job easier too as it can be hard manoevering a sideboard whilst trying not to trip over the cat!
So long as you are prepared, we see it as our job to ensure moving day runs like clockwork and we aim to alleviate as much stress as possible from what is inevitably a stressful process.
What is the best way to get in touch with you and how much notice do you need?
The best way to get in touch with us is to call on 0800 690 6541 or visit our website at
http://loveremovals.com  where you can fill in a quote request form.
Alternatively you can email us at help@loveremovals.com.
Notice-wise, as much as possible but it's always worth calling because we can usually work something out, even for a move in the next few days.