The Brighton Tattoo Convention returns to the Brighton Centre this May to celebrate it's 10th Anniversary. Elite tattoo artists and enthusiasts from all over the world flock here year after year and I'm sure the 10th anniversary will be extra special. This year it will feature over 300 home grown artists from the UK as well as a who's who of international artists all showcasing a wide range of different styles.
Why You Should Go
If you are new to tattoo culture and are interested in gaining more of an insight into the art form the Brighton Tattoo Convention is perfect and opportunities are plentiful in every direction. It is treated as it should be, a true art form. Whether you are interested in getting a once in a lifetime piece of work from an international artist or another piece to add your collection from your regular artist, you are spoilt for choice. Every style is covered, from tribal to realism to the most traditional styles and everything in between; and if you're thinking of getting your very first tattoo, The Brighton Tattoo Convention is the perfect place to engross yourself in the best of the best.
The Brighton Centre is a reasonably new venue for the convention. It began 10 years ago at Brighton Racecourse, which was home to the convention for many years. Over time it has evolved into one of the UK's most well respected tattoo conventions and with it, a move into central Brighton. Last year the Brighton Centre was transformed into a tattoo wonderland and played host to over 6,000 attendees. This year attendees are treated to not only some of the worlds greatest tattoo artists also workshops, exhibitions, retailers, live music. For all you motorcycle and hot rod fans 'The Trip Out' will be bringing their amazing chopper exhibition along to the show. All of this is topped off with convention DJ's playing all through the night to end your evening with a bang. For all you metal heads, Parliament Tattoo will be hosting the 'Hell Bent On Leather' exhibition officially endorsed by Judas Priest which is sure to be memorable. All this and much more.
Who Will Be There?
As well as all of the tattooing festivities  Paul Hewitt and his crew of extremely talented barbers from London Road's street wear/tattoo shop/coffee shop mashup AONO are returning to the Brighton Tattoo Convention for their fourth year in a row to join the Barber Expo. As well as the AONO team attendees are treated to barbering talent from all over the world including San Francisco's Shane Nesbitt and La Shaperie from Paris. But that's not all; 'Bringing traditional barbering into the modern world' will be operating a pop up barber shop hosting live DJ's, product stands and Q&A's.
Rest Assured you don't need to be covered in tattoos to enjoy the fun. It caters to anyone, from art lovers to people that are simply curious about how it's all done. The Brighton Tattoo Convention will be an incredible spectacle that has promised to be their biggest ever.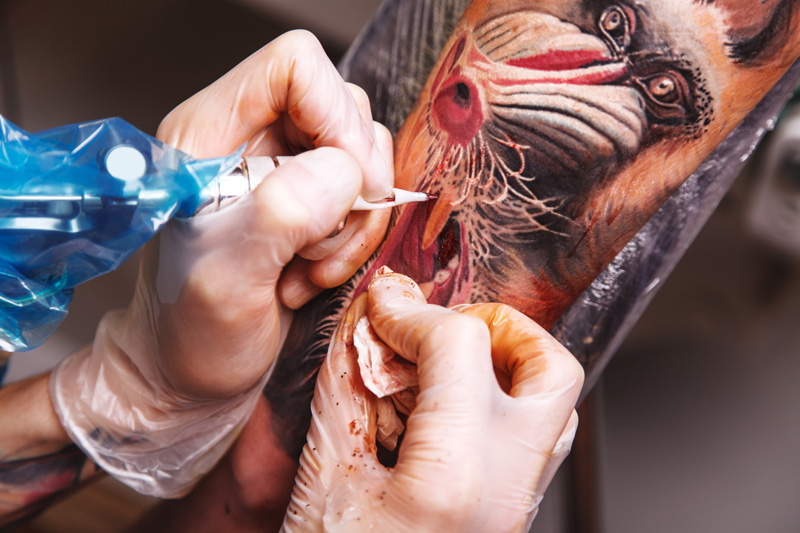 The Brighton Centre hosts the 10th Anniversary of the Brighton Tattoo Convention from Sat 13-Sun 14th of May 2017. Tickets begin at £25 per day or £40 for the entire weekend.