Kooky characters, graffiti-lined streets and stunning architecture at every turn; it goes without saying the Brighton is a social media dream. It turns out that it's also the UK capital of coffee, with the average Brightonian spending £177 on the beautiful bitter liquid each year, outspending even Londoners for their caffeine hit. The secret? Brighton's vast number of independent coffee shops and cafés littered across the city, which provide the perfect spots for cake munching and hipster watching to your heart's content.
Sound like something your feed could use? We spoke to local coffee packaging suppliers, The Bag Broker, to discuss the coolest spots in the city to grab a perfectly picturesque cup of java.
Marwood
Where: Ship St, Brighton
The Marwood coffeehouse is, at least to some, the epitome of Brighton. The café itself is a bohemian riot of paraphernalia and memorabilia from every decade, while achingly-hipster, self-titled "coffee ninjas" serve a full range of coffees and light bites, most available with some sort of vegan / gluten-free / dairy-free / oat-based alternative. Oh, and they offer cocktails in the evening.
Your best snap: A generous slice of their #lifechangingcake.
Source: Brian's Coffee Spot
The Flour Pot
Where: Elm Grove, Hanover
A true Brighton success story, The Flour Pot is has three locations across the city, actually serving coffee from another local favourite, Small Batch. Each café shares a minimalist, Scandi-style aesthetic, with sleek grey counters and copper piping allowing their sumptuous selection of baked goods to steal the limelight. If you can't make it out to the Hanover branch, you should check out one of the equally-delightful spots in the North Laine or Hove.
Your best shot: A tray of their doughnuts (freshly baked on Fridays) is going to inspire some serious #brunchgoals envy.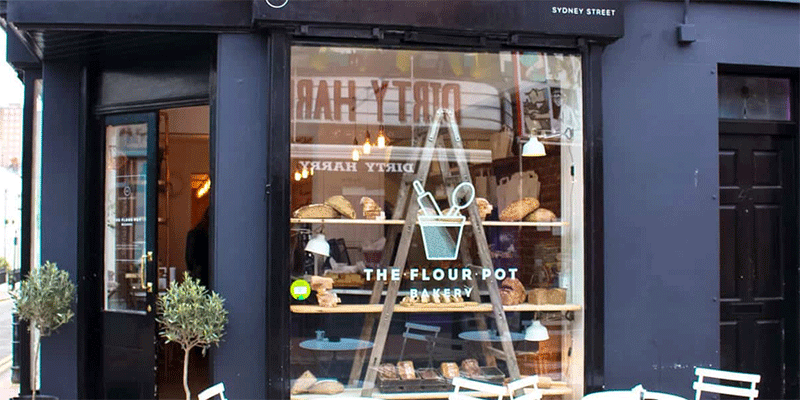 Source: Best of England
Café Marmalade
Where: Eastern Road, Kemptown
Not only is this gorgeous little Kemptown café a delight for the eyes, it's recognised for serving some of the best coffee in the city. With bubbly staff serving hearty café favourites every day of the week, there are approximately zero reasons for not capturing it's shabby-chic charm on your feed.
Your best shot: The rustic brown paper menus hanging on the wall behind the counter.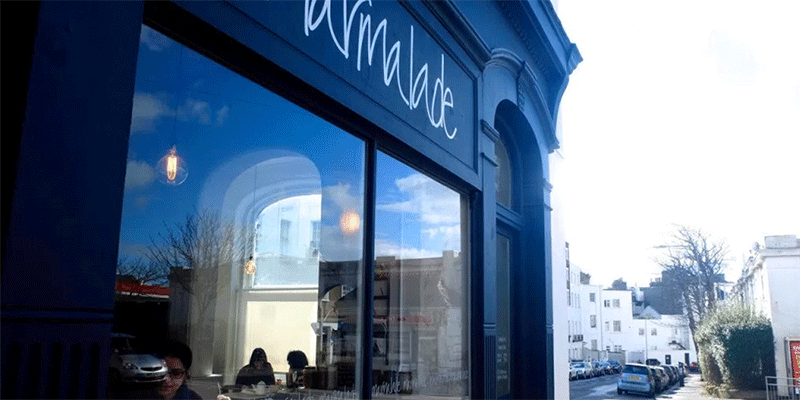 Source: Emma Inks
Pelicano
Where: Sydney Street, North Laine
If you're in Brighton it's very likely that you'll be taking a stroll down the North Laine at some point in your trip. When you do, make sure to swing by the independently run café Pelicano, for a caffeine hit to put all others in their place. Not only will their dedication to excellent coffee earn your serious kudos, their branding is super hipster, and super cute.
Your best shot: A latte and a pastry on one of their branded breadboards.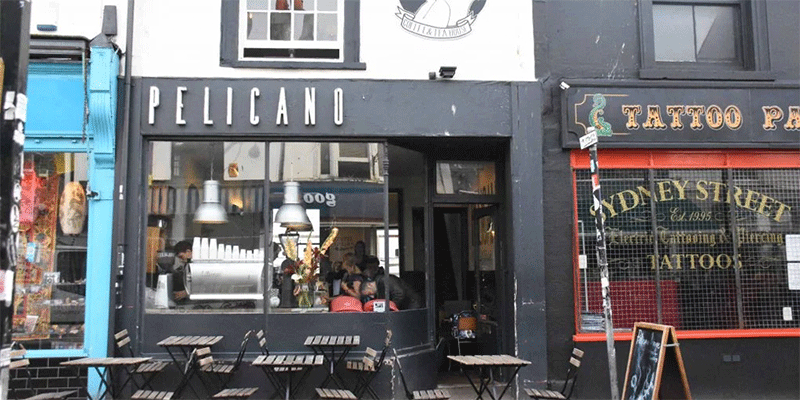 Source: The Tab
Bake Out
Where: The Drive, Hove
With gilded branding that evokes the likes of the hipster hit Mr Holmes Bakehouse, Los Angeles, it should go without saying that a coffee at Bake Out is going to induce some major crushing in your feed. Curiously, the company don't seem to do much with their own Instagram feed, but don't let that stop you from swinging by for a snack and a snap. Bake Out branches can also be found in Lewes, Hassocks and Southwick.
Your best shot: A polarised shot of their glossy windows and the stacks of fresh bread behind.
Source: Bake Out
Twin Pines
Where: St James' Street, Kemptown
Another café that takes its coffee seriously, sourcing a new guest roast every month which gets served up in uber-trendy handmade branded cups. The décor in here is vintage and eclectic, and it's packed with luxe details, like the gold tiles in their unisex toilet. Outdoor seating treats you to a view of the characters of Kemptown, while downstairs is perfect for a cosy chat.
Your best snap: Score some likes by perching on the windowsill in your sunnies.
Source: Foodie Eshe
Plotting Parlour
Where: Steine Street, Brighton
When you've had your fill of coffee shops, veer away from the beaten track and into one of Brighton's hidden gems, the Plotting Parlour. You can order a barista coffee if you wish, but their unique cocktail list offers the opportunity to show your followers something completely new. Caffeine addicts should try a Pistachio Espresso Margarita, or if you fancy a bit of humour, try a Comin' Matcha Margarita.
Your best shot: A moody photo of the Beekeeper cocktail, complete with honey dipper.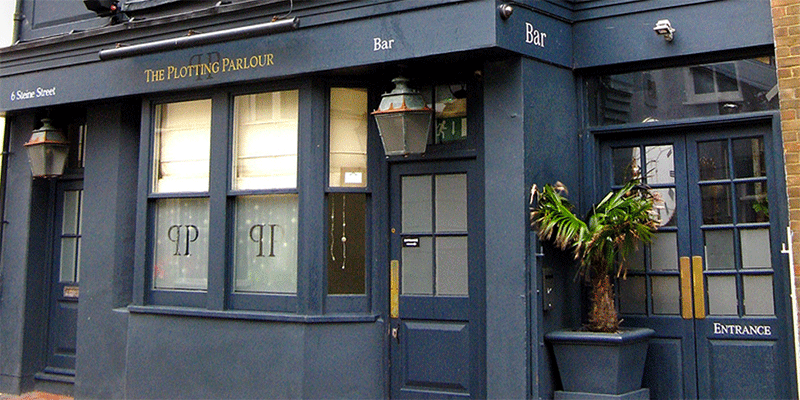 Source: Flickr
So, pack a weekend bag and head on down for a tour of the UK's coffee city. Just don't forget your charger; after all, if you're served a beautiful coffee but don't snap a picture, does it really exist?