Daniel Knight, from Brighton, started up his own brand of kickboxing equipment called Sidekick way back in 2010.
Before achieving his black belt, Daniel wanted to further his goals in kickboxing and extend his passion for the sport into his own business.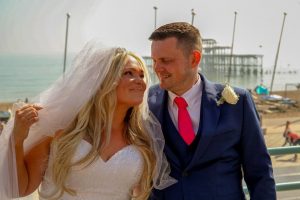 From humble beginnings selling out of a flat on the seafront, the company has now become a national name in the martial arts industry and pioneers in developing professional equipment.
With a team of manufacturing experts of over 20 years, Sidekick rapidly earned a name of high quality kickboxing equipment with a real stylish look to hit the market. This success of our equipment grew them into other combat sports and Sidekick became the equipment sponsor to many prestigious kickboxing and MMA promotions.
Sidekick now has the prestigious reputation as 'The Fight Brand of Britain!'
Daniel, Owner and Director of Sidekick Boxing, answers questions about his business and the sport below:
Why Do You Love Operating a Business in Brighton?
I was born here, its home! Brighton is a fantastic place which pretty much has everything. With such a busy lifestyle we forget how lucky we are be right next to the beach.
How has Kickboxing Influenced Running Your Business?
'When I look back I feel like I took on a mammoth task. When I used to tell people I was going to be one of the biggest names in kickboxing, they would laugh.
But all that would do is just fuel the fire. I took the discipline which kickboxing taught me and put that drive and energy into growing the Sidekick brand.'
How has Business Changed Over the Past 10 years?
'Things were different back then, it wasn't as a digital era as we are in today. Even Facebook had only been going for just over 5 years! I found that all I needed was a Blackberry and a laptop and I was away.
Nowadays it is much more advanced so I always make sure I'm on top of the game on the marketing front and try my best to keep my customers updated on our products and everything to do with the sport too.'
Have You Met Any Professional Fighters Over the Years?
'It has been an amazing 10 years, and it's thanks to Sidekick that I have worked and met some great people: from professional fighters, the best coaches, and even celebrities.
It's even been quite surreal at times, I have had Alex Reid and Towie stars call me in an evening and even had Dizzee Rascal skipping next to me in a Thai boxing gym in Orpington.'
Do You regret Anything?
'With the money I have invested in the sport, I could have bought a house outright or a couple of supercars, but I wouldn't change anything for the world.'
How Have You Changed in 10 Years?
'I used to train 5 times a week in kickboxing, now I tend to be a lot more chilled towards Kickboxing and business now. I don't feel like I have anything to prove. I just look forward to getting home with my wife, Daisy, and my two girls.'
Daniel is celebrating 10 years of business in Brighton by creating Sidekick's very own Ultimate X boxing gloves. The ultimate boxing glove is as renowned as their ancestors, with UK ranked no1 kickboxer William Goldie-Galloway, pro boxer Anth Ornsby and Muay Thai promoter Kyle Greaves using them.
You can find more information on Sidekick's website and on Facebook