Elvis Presley is one of the greatest musicians to have ever graced the stage. To many people, he is more than just an artist; he is a way of life. This would explain the abundance of Elvis tribute artists in the UK and other parts of the world. Elvis's illustrious career took him all over America, but never to the UK. Thankfully, these memorable tribute artists offer a taste of Elvis in the UK, wowing audiences with the full Elvis Show Experience.
It takes more than a striking resemblance with Elvis, alongside costumes, piercing vocals, dance moves and facial expressions to be a great tribute act. These are traits already possessed by thousands of Elvis tribute acts the world over. Just like in any other competitive industry, there has to be something extraordinary that separates exceptional artists from mediocre ones.
The UK has its own fair share of great Elvis tribute acts; these acclaimed artists go out of their way to be charming and engaging to their clients and audiences. They distinguish themselves from others not only by their extraordinary performances, but also their incredible work ethic and mastery of Elvis's every single quirk, body language and mannerism.
Here, we take peek at the UK's greatest Elvis tribute artists working today and how they got to where they are now.
JD King
JD King is irrefutably the UK's most popular and highly rated Elvis tribute artist and impersonator in the business today. Also known as Jim Devereaux, JD shot to fame in 2002 with his 'This is Elvis' show, since when his rise has been nothing short of astronomical. JD made history in 2017 as the only performer to debut as the headline act at the world's largest tribute music festival, TRIBFEST, and be booked again the very next year due to popular demand! His performances are surreal, while he's known for being smouldering onstage and delightful offstage. He has also featured in numerous interviews on radio and TV shows, with many articles having been published about him in various newspapers and magazines.
JD is a professionally trained actor and singer, which makes him able to effortlessly transition to 'The King' in a way most tribute performers struggle to perfectly master. At 33 years old, JD is the perfect age to recreate all eras of Elvis Presley with energy and credibility, portraying 'The King' at his best. His repertoire is constantly updated and includes over 230 popular Elvis songs, all available on request. He has performed in over a dozen countries, with such megastars as Kim Wilde, Miss Dynamite and super group, Texas. He has also performed for – as well as appeared and worked with – members of Elvis Presley's family, original show band and backing singers.
JD performs at concerts, weddings, private parties and corporate events (accompanied by a seven or eleven-piece band), all across the UK and Europe, providing a full PA system and high-quality lighting package, including top of the range disco lighting and lasers.
Notably, JD is the world's leading tribute act with more five-star reviews from both professional publications and direct customers than any other Elvis impersonator, making him the world's best tribute artist by customer rating. His reviews on independent platforms like reviews.co.uk (from clients for whom he has performed at events, as well as people who have seen him in concert) are truly superb.
Although 'The King' is gone, JD's outstanding performance will make you feel like you're watching Elvis perform once again in all his glory.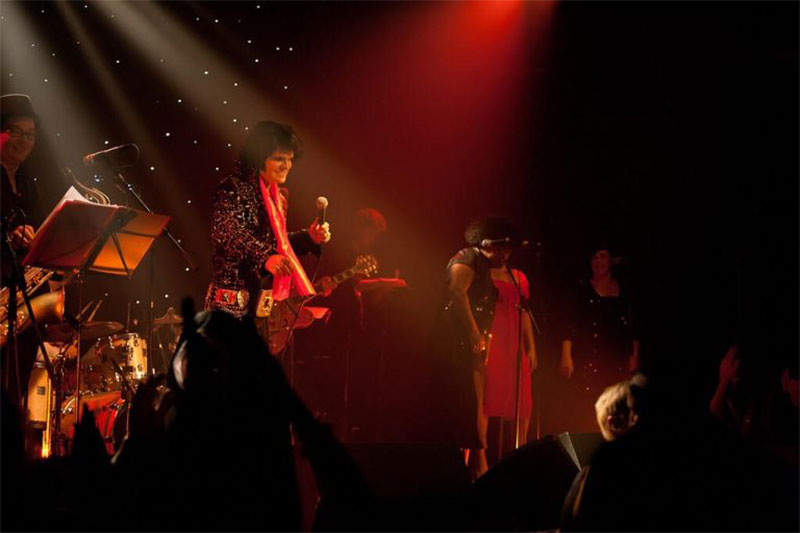 Andy Jones
Andy Jones is an award-winning UK Elvis Presley tribute act, who has been performing for over six years. Prior to his Elvis role, Andy performed in bands across the UK for over 20 years. This prepared him for his career as an Elvis tribute artist and armed him with the much-needed experience so valuable in this line of business.
He has a sizeable repertoire, taking in all eras of Elvis's career, from Hound Dog to Jailhouse Rock and songs from the world-famous 1968 comeback special, such as If I Can Dream, American Trilogy and Suspicious Minds. He dedicates hours to rehearsing and watching footage of Elvis so as to be able to recreate his persona perfectly. He performs not only at corporate events, but also weddings, parties and private functions.
Ben Portsmouth
Fondly known as Elvis Presley 2.0, Ben Portsmouth is a multi-talented musician, singer, songwriter and tribute performer. He grew up listening to Elvis and started his journey as an Elvis tribute artist in 2005 when he formed the 'Taking Care of Elvis' band.  In 2006, after enjoying success in the UK and Europe, he was voted 'The Best Elvis' at the International Elvis Festival in Porthcawl, Wales (the largest in Europe). He shot to fame in August 2012, making history by winning the Elvis Presley Enterprises 'Ultimate Elvis Tribute Artist Contest', which took place in Memphis, USA.  He was the only artist from outside the USA to ever win this prestigious title.
Since this win, he has received offers from promoters far and wide to headline shows and play on big stages to thousands of people all over Europe and America. He also appeared on The David Letterman Show to headline a special Elvis Week and tours the world performing with his band.
Ben Portsmouth still remains one of the most popular Elvis tribute acts in the UK.
Andy James
Andy James is one of UK's leading Elvis tribute artists, with over 20 years of experience. Having toured all around the world, he performs with his band for thousands of Elvis Presley fans. He has also performed in Las Vegas in front of the Presley family, drawing great praise and many accolades from the audience.
An electrifying artist who knows how to generate excitement before the show starts, Andy mingles with the audience, working with them to make sure they have a wonderful time and are all part of the show. His performance comprises a huge backdrop, amazing lighting, incredible speakers and backing music from a 52-piece orchestra to give the audience the full Elvis Show experience.
His reviews on Entertainers Worldwide show happy, satisfied clients, who were amazed by his perfect rendition of Elvis songs and his all-round professionalism.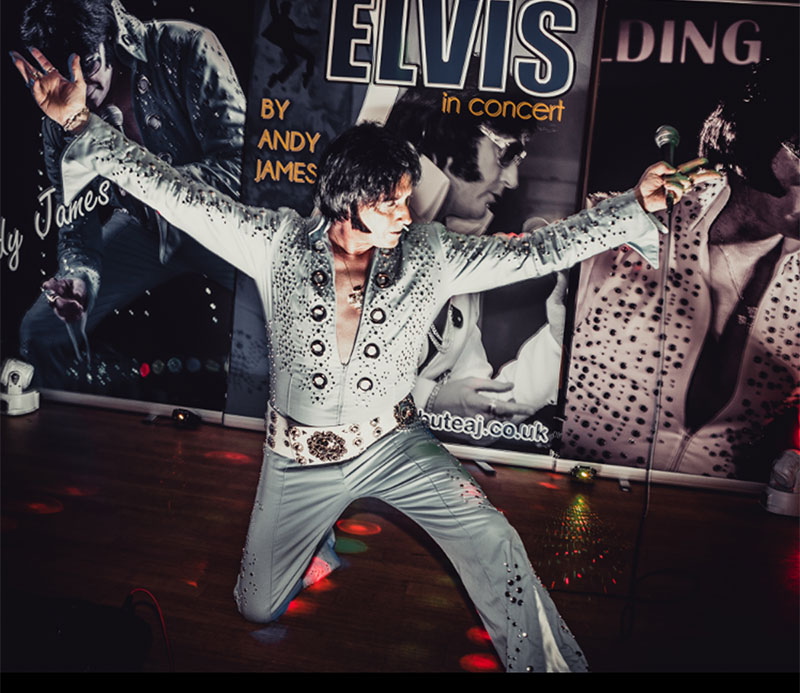 JC Aron
JC Aron is a first-class professional performer, showman, entertainer and Elvis tribute artist who always has his audience on their feet dancing. He has the voice, looks and moves of 'The King' himself and recaptures the spirit of Elvis, creating an electric atmosphere. He is a one-man act, replete with PA system, fully lit Elvis backdrop, as well as a laser/light show and smoke machines (where permitted). Furthermore, the striking costumes and accessories effectively reflect the different eras and styles of Elvis.
Darren Rivers
Darren Rivers has been performing as a professional Elvis tribute act for over 20 years now. He's widely recognised by many Elvis Presley fans as one of the top Elvis impersonators and tribute artists in the UK. He's played at every type of celebration and stood centre stage at a wide variety of venues.
Darren not only performs at private parties, but also major events and venues such as Elvis Tribute Weekends, Social Clubs, Theatres, Bistros, Hotels, Golf Clubs and Charity Events. He has a large and loyal fan base throughout the UK.
He can also boast of a 4.8-star review on Free Index as a result of many well impressed clients.
Kidd Galahad
Kidd Galahad is the North East's newest UK Elvis tribute act. A lifelong fan, whose childhood was steeped in the music of Elvis, his love and passion for 'The King' shines through in every outstanding performance.
He made his debut on the Elvis scene in early 2012, with his powerful, respectful and unique tribute to the King of Rock and Roll. He performs all across the UK and alters his shows for different events and venues, which feature a massive set list and authentic, individually tailored costumes, designed to deliver n unforgettable experience. He currently performs as Elvis in concerts, cabarets and corporate events.
His reviews clearly demonstrate a wide range of delighted, satisfied clients, who were amazed by his perfect rendition of Elvis songs and his general professionalism.
These celebrated Elvis tribute artists are the best in the business, across the UK and beyond. They have each won awards, performed around the globe and thrilled millions of Elvis fans far and wide. Their reliability, professionalism and authenticity set them apart from their peers and also endear them to fans all over the world.
These showmen do more than just sing Elvis songs; they go above and beyond to bring them to life. Their performances will leave you feeling as though you've just been serenaded by 'The King' himself. Even though Elvis is gone, thanks to these artists who pour their heart and soul into their craft, he will always be with us.